The Georgia Review Guidelines Information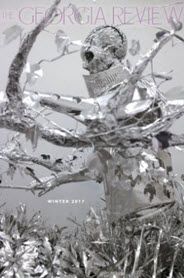 Established
: 1947
Frequency
: quarterly
Accepts Email Submissions
: no
Website URL
:
https://thegeorgiareview.com
Twitter
:
@GeorgiaReview
Description
:
The Georgia Review
is the University of Georgia's journal of arts and letters. Some of the many well-known authors published in the
Review
include Stephen Dunn, William Faulkner, Robert Frost, Philip Levine and Joyce Carol Oates.
Editor(s)
: Stephen Corey
Needs
: Fiction, poetry, essays and book reviews.
Payment
: $50 per printed page for prose and $4 per line for poetry. $50/printed page for essay-reviews and stand reviews and $50 for book briefs. Contributors also receive a one-year subscription and a contributor copy of the issue containing their work.
Tips
:
The Georgia Review
runs an annual poetry prize called the
Loraine Williams Poetry Prize
.
How to Submit
: You can submit work by the Submittable account or via post. There is a $3 processing fee for online submissions for non-subscribers.
The Georgia Review
does not accept unsolicited submissions during certain months of the year. Simultaneous submissions are accepted with the exception of book reviews. Notify them immediately if your work is published elsewhere.
Response Time
: within three to five months
Guidelines Url
:
https://thegeorgiareview.com/submit/
Address
: The Editors
The Georgia Review
706A Main Library
320 S. Jackson St.
The University of Georgia Athens GA 30602-9009
This listing was last reviewed and/or updated on 2018-03-28
Image Credit: The Georgia Review
---
More Guidelines of Interest
The New Yorker
:
The New Yorker
is a widely known for its political commentary and coverage of New York culture. The publication's reach extends far outside NYC. The magazine is read around the globe. It is also known its iconic cover art. The weekly magazine is published by Conde Nast.
Cemetery Dance
: Cemetery Dance is bi-monthly magazine of horror, dark mystery, and suspense. Each issue contains short stories, articles, columns, interviews, news, and reviews.
Quilter's World
: Quilters World is a busy quilter's dream come true. This title focuses on speed-quilting techniques that make it possible to complete a full-size quilt in a short time.
Crab Orchard Review
: Crab Orchard Review is an online literary magazine seeking diverse voices capturing the range of contemporary American writing. It is published at Southern Illinois University.
Missouri Review, The
:
The Missouri Review
is an award-winning literary publication featuring fiction, poetry, nonfiction, features and interviews.