The New Yorker Guidelines Information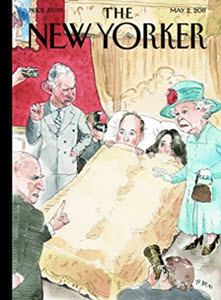 Publisher
: Conde Nast
Established
: 1925
Website URL
:
https://www.newyorker.com
Twitter
:
@NewYorker
Description
:
The New Yorker
is a widely known for its political commentary and coverage of New York culture. The publication's reach extends far outside NYC. The magazine is read around the globe. It is also known its iconic cover art. The weekly magazine is published by Conde Nast.
Needs
:
The New Yorker
is looking for fiction and poetry. They are also seeking short humorous fiction for the daily
Shouts & Murmurs
section. The magazine also publishes cartoons which can be submitted through Submittable. The guidelines say they do not accept unsolicited nonfiction.
Payment
:
The New Yorker
is a competitive paying market but does not list exact rates online.
Tips
:
The New Yorker
fiction editor Deborah Treisman
told
The Stranger
that everyone in the fiction department writes an opinion about a story being considered for publication. A published story may not be liked by everyone. Treisman also discusses fiction submissions in an
interview
on forward.com. She says there is no "one thing" or "trademark piece" to get published in the magazine. She says a story must "achieve on its own terms." Deborah Treisman also answers a few questions in a
FAQ
from 2008 posted on newyorker.com.
How to Submit
: Fiction and Shouts & Murmurs submissions can be submitted to the appropriate email as a PDF attachment (see the guidelines). Stories can also be submitted by mail. Poetry can only be submitted through the
New Yorker's
Submittable page
.
Guidelines Url
:
https://www.newyorker.com/about/contact
Address
: The New Yorker 1 World Trade Center NY NY 10007
This listing was last reviewed and/or updated on 2018-03-23
Image Credit: Conde Nast
---
More Guidelines of Interest