New Ohio Review Guidelines Information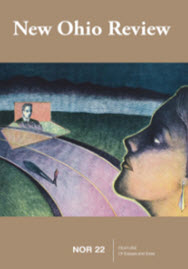 Established
: 2005
Website URL
:
https://www.ohio.edu/nor/
Twitter
:
@NewOhioReview
Description
:
New Ohio Review
is a national literary journal produced by Ohio University's Creative Writing Program.
Editor(s)
: David Wanczyk
Needs
: Fiction, nonfiction and poetry.
Payment
: Contributors receive a payment of $10/page for prose and $30/page for each poem. They also receive two copies of the issue and a one-year subscription.
Tips
: Poems should be individually typed, either single- or double-spaced, on one side of the page.
How to Submit
: They have two reading periods per year. Subscribers can submit year-round. Simultaneous submissions are accepted but notify them immediately if your work is accepted elsewhere. Submissions through Submittable are encouraged. Only subscribers are allowed to submit via post.
Response Time
: 2-4 months
Guidelines Url
:
https://www.ohio.edu/nor/submit.htm
Address
: New Ohio Review
English Dept. 79 S. Court Street
Lindley Hall
Ohio University Athens OH 45701
This listing was last reviewed and/or updated on 2018-03-30
Image Credit: New Ohio Review
---
More Guidelines of Interest
Quilter's World
: Quilters World is a busy quilter's dream come true. This title focuses on speed-quilting techniques that make it possible to complete a full-size quilt in a short time.
Crab Orchard Review
: Crab Orchard Review is an online literary magazine seeking diverse voices capturing the range of contemporary American writing. It is published at Southern Illinois University.
Missouri Review, The
:
The Missouri Review
is an award-winning literary publication featuring fiction, poetry, nonfiction, features and interviews.
The Adroit Journal
: The Adroit Journal showcases what its global staff of emerging writers sees as the future of poetry, prose, and art.
The Southern Review
: The Southern Review is a literary journal that strives to discover and promote a diverse array of engaging, relevant, and challenging literature as well as the est established and emerging writers.