The Antioch Review Guidelines Information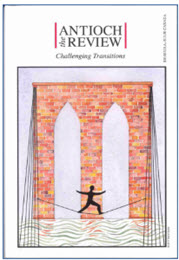 Established
: 1941
Accepts Email Submissions
: no
Website URL
:
http://review.antiochcollege.edu/antioch-review-home
Twitter
:
@AntiochReview
Description
:
The Antioch Review
is one of America's oldest continuously publishing literary magazine. The magazine is published at Antioch College. Author and editor Robert S. Fogarty has been editor of the magazine since 1977. Authors published in the magazine are consistently included in the
Best American
anthologies and Pushcart prizes.
Editor(s)
: Robert S. Fogarty
Needs
: Fiction, essays and poetry.
Payment
: $20.00 per printed page plus two copies of the issue.
Tips
: The editors advise reading some issues of the magazine. They write, "Within these pages you will find information that can help you to develop ideas for subjects and an understanding about treatment, lengths of articles, and the stories we have used."
How to Submit
: The magazine does not accept electronic submissions. They suggest including a cover letter with your submission. There are periods of the year (generally summer months) when
The Antioch Review
does not accept different types of submissions so be sure to check the guidelines.
Response Time
: up to four to six months
Guidelines Url
:
http://review.antiochcollege.edu/guidelines
Address
: The Antioch Review P.O. Box 148 Yellow Springs OH 45387
This listing was last reviewed and/or updated on 2018-03-25
Image Credit: The Antioch Review
---
More Guidelines of Interest
Crab Orchard Review
: Crab Orchard Review is an online literary magazine seeking diverse voices capturing the range of contemporary American writing. It is published at Southern Illinois University.
Missouri Review, The
:
The Missouri Review
is an award-winning literary publication featuring fiction, poetry, nonfiction, features and interviews.
The Adroit Journal
: The Adroit Journal showcases what its global staff of emerging writers sees as the future of poetry, prose, and art.
The Southern Review
: The Southern Review is a literary journal that strives to discover and promote a diverse array of engaging, relevant, and challenging literature as well as the est established and emerging writers.
Mid-American Review
: Mid-American Review (MAR) is an international literary journal publishing stories, poems, essays and reviews. It is published at Bowling Green State University.