June, 2002
Index
Interviews:
Jane Yolen
Janny Wurts
Articles:
The Top Ten FAQs on the Business of Songwriting: #3
Collaboration: Right or Wrong
The Debate: Freelance Gigs vs. a Staff Job
Manufacturing Inspiration
Features:
Book Reviews
Return to This Issue's Index
Return to Homepage
Subscribe
Children's Book Reviews
Page One of Two
Butterflies in the Garden by Carol Lerner
HarperCollins, May, 2002
Picture Book, 32 pages
ISBN: 0688174787
Ages: 5 -8
Ordering information:
Amazon.com | Amazon.co.uk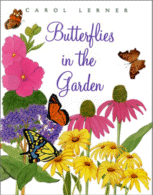 Every child loves butterflies. They can be followed as they go about the garden, and they are so beautiful that children are irresistibly drawn to them. Carol Lerner has written and illustrated the kind of book that a parent (or grandparent) can take into the back yard and share with children from spring through summer. This book would also be very helpful for a classroom, if the school is fortunate enough to have a children's garden.

This beautiful book begins with the end papers, where thirty-nine different commonly seen butterflies are pictured and labeled. Each page is a lovely illustration of different butterflies and of the flowers that attract them . First the parts of a butterfly are explained, and in the text below the motivation of the insect is explained in simple terms. Next, the different kinds of butterflies are discussed and illustrated. Stunningly colored pages open up showing all the wonderful flowers that will attract each butterfly. Children will eagerly take this book to the seed rack at the local nursery so they can plan their spring garden which will attract such beautiful guests. Plants that can be bought at the nearest nursery center are illustrated, and most of them will be readily recognizable by all of us. Not only are commonly-known flowers mentioned, but other little known ways of attracting butterflies are also mentioned. How many of us know about a butterfly puddle?

Next, Ms. Lerner instructs us about the kind of plant a butterfly seeks when it is ready to lay eggs. Some of the plants that suburban gardeners may call weeds are actually just the plants that a butterfly may be searching for to lay its eggs. The miracle of metamorphosis is explained in equally beautiful illustrations. Every child loves to watch this beautiful process.

Carol Lerner has written a book that is skillfully combines science and beauty. Butterflies in the Garden is a book that will bring much joy to children and the adults who love to share their world of wonder and adventure with a child.

-- Sarah Reaves White


---
Daughter of Venice by Donna Jo Napoli
Wendy Lamb Books, March, 2002
Hardcover, 228 pages
ISBN: 0385327803
Ages 12 and up
Ordering information:
Amazon.com | Amazon.co.uk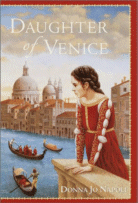 Daughter of Venice immediately plunges the reader into the fascinating and totally alien world of late sixteenth century Venice. This is such a forgotten world that a modern reader will be shocked at the system of family and custom that conspired to imprison a young woman. Donata, the daughter of a powerful and wealthy family of the city state of Venice, will most likely not be able to marry. In order to preserve the family's fortune, only one son and one daughter would be permitted to marry. The others will stay at home or take up careers in business or politics. Daughters had a choice of being maiden aunts and therefore nannies to the nieces and nephews that would be born to the siblings permitted to marry, or a life in a convent where they could teach and otherwise care for the children of the poor. Education would not be wasted on daughters, because they would have little cause to use it. They would be expected to do fine needlework, play a musical instrument or raise children. Unfortunately, Donata, the more aggressive of the second born twin girls is bedeviled by an inquiring mind and an adventurous spirit. She longs to be free to roam the streets of Venice and learn things for herself. Donata forms a plan to pursue her dream and she enlists her siblings in the conspiracy.

Donna Jo Napoli weaves the special world of sixteenth century Venice so deftly into this story of teenage rebellion that the reader actually begins to worry about the fate of this headstrong young woman who is so driven by her great intelligence. The reader quickly begins to understand how the people of Venice solve their problems by being practical in all things. Jews and Lutherans are tolerated because they bring wealth to the city, and the Vatican is constantly out maneuvered on matters of faith versus matters of business. A painting of the Last Supper of Christ by Veronese which was deemed too wild by the Inquisition was simply renamed by the Committee on Heresy. The painting became the Banquet at Levi's House and Venice did not have to lose a great work of art or a talented artist. One feels great fear for a young illiterate woman disguised as a fisher boy who is trying to find her way among the maze of winding streets and canals of Venice.

Daughter of Venice is the kind of book that a young person will really enjoy because it treats life's problems in an honest way, but does not pontificate about what one ought to do. The reader simply sees Donata work out her problems of not wanting to marry the young man picked for her, of her first crush on an older man, and of trust and honesty within a family. The family values of this exciting story work themselves out because the family has built itself on love and honesty. Donata's fate evolves into a very satisfying conclusion, and the reader has become very well acquainted with a world that has largely been forgotten. History in the hands of Ms. Napoli becomes fascinating and exciting.

-- Sarah Reaves White


---
Dinosaurs Big and Small by Kathleen Weuidner Zoehfeld, Illustrated by Lucia Washburn
HarperCollins, May, 2002
Picture Book, 40 pages
ISBN: 0060279354
Ages Baby - Preschool
Ordering information:
Amazon.com | Amazon.co.uk


Dinosaurs Big and Small addresses in a child's terms just how big dinosaurs were, and it also teaches how to pronounce those difficult scientific names. If one is only six, one can really impress the grownups by talking knowledgeably about Diplodocus or Seismosaurus. After reading this book with a helpful grownup, it will be great fun to go outside, look down the street and imagine a Seismosaurus that is as long as four school buses parked in a row. Or how awesome an idea that a Brachiosaurus would have weighed as much as sixteen elephants. This beautifully illustrated book addresses a child's need to understand relative size and it is very practical for a child because it relates size to things with which he is familiar.

Not only is a child introduced to how big the really giant dinosaurs were, but he also finds out the important fact that many dinosaurs were actually quite small. Starting with the Iguanodon, which is only the size of one elephant, the story turns to a dinosaur named Deinonychus which was about the size of one's father and to Coelophysis which was very dangerous and was about the size of an average kid. The story of the dinosaurs who just might have developed into birds is very interesting. One is told that Caudipteryx could have been carried around like the family cat. Mussaurus was so small it could have been picked up and cradled in a child's hands like a bird.

Although what the dinosaurs really looked like as far as color and skin texture is still a matter of conjecture, Lucia Washburn has created illustrations that are going to be very attractive to children. Executed mostly in soft pastel colors, the illustrations give a sense of the dawn of life on earth. One of the most sensitive of the paintings shows a young girl holding a baby dinosaur hatchling in her hands. The wonder and enchantment children have for small things is captured on this charming page. Ms. Washburn has accurately matched art to the purpose of this book which is to learn and understand, but not to frighten. Perhaps the most helpful section of Dinosaurs Big and Small is a the pronunciation guide for both adult and child.

Dinosaurs Big and Small will be appreciated greatly by children from ages three to six. This is the age when children are really excited about dinosaurs in general, and this book will open up a fascinating world of science for a child.

-- Sarah Reaves White


---
Children's Book Reviews
Page One | Page Two

Return to Book Reviews Index

** To visit the archives of children's books reviewed in The IWJ, please click here.