Book Reviews
Return to This Issue's Index
Return to Homepage
Subscribe
Nonfiction Book Reviews
Page Two of Three
Italy in Small Bites by Carol Field
William Morrow, June, 2004
Hardcover, 293 pages
ISBN: 0060722797
Ordering information:
Amazon.com | Amazon.co.uk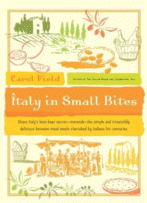 Everyone is familiar with tapas, the little Spanish appetizers that can serve as a meal or as a snack. But not as many people are familiar with Italy's version of between-meals meals known as merende. Carol Field, author of The Italian Baker and Celebrating Italy, has made it her mission to correct this oversight -- with delightful results. She begins the book with a fascinating history lesson, which is highlighted by food. She traces the history of the way Italians eat, dropping interesting facts with the same aplomb that she uses to whip up some Bruschetta or a Foccaccia Condita (Durum Pizza and Durum Bread). Armed with Ms. Field's clear instructions, your ingredients, a food processor and your oven/range, you will find yourself turning out such delicacies as Pomodori Secchi Imbottiti (Sundried Tomato Sandwiches), Scarpaccia Viaregginia (Savory Zucchini Tart), Casareccio (Rustic Whole Wheat Bread), Sgabei (Cheese-filled Fried Dough Wands), Barbagliata (Espresso and Cocoa), and Maritozzi delle Marche (Lemony Sweet Buns).

This is definitely a non-Atkins Diet type of cookbook. There are glorious and healthful carbs (vegetables, fruits, and whole grains) galore. But you did hear that vegetarians live, on average, ten years longer than meat eaters, didn't you? So, ditch the fear of carbs and dive into this absolutely delightful book which is full of healthy Mediterranean fare that will please family, friends, and -- most importantly -- yourself.


---
Nemesis: The True Story by Peter Evans
ReganBooks, June, 2004
Hardcover, 336 pages
ISBN: 0060580534
Ordering information:
Amazon.com | Amazon.co.uk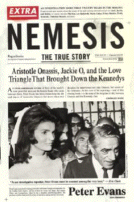 Imagine how Peter Evans, author of an acclaimed biography of Aristotle Onassis published in 1986, felt when both Onassis' daughter and his close business partner of many years hinted that he had missed the "real story." It was enough to send the investigative reporter into years of research and interviews . The consuming passion of the reporter took over and we are now presented with a cast of characters -- unhindered by qualms, inhibitions, or principles -- that formed the dramatis personae that lived at the top of the world's pyramid of wealth and power.

Ordinary Americans were puzzled at the actions of their First Lady in the year after the assassination of President Kennedy. They were aghast at the sight of their beloved Jackie Kennedy marrying a short, unattractive, Greek shipping magnate with a questionable reputation. Why had she taken a cruise on his yacht without her husband before the fateful trip to Dallas? How could she have married such a man? "It made no sense," people said. America was disgusted. But the average American had never met the regal but calculating Jackie, nor had they ever been in the presence of the powerful Greek. No one had even guessed that Jackie was already under the spell of the wily Greek because she had earlier given up on any kind of marital fidelity from her philandering husband. The Kennedy glamour machine had mesmerized the press who, in turn, dutifully reported every charming quotation and recorded every delightful photo-op to a democratic public that pined for a little royalty in their lives. The real story was completely different from what was appearing in the magazines that filled the racks next to the check out counters in the local grocery stores.

Peter Evans's research is a remarkable compendium of investigative journalism spanning many years and continents, and it is the kind of book that a reader will have to devote an entire weekend to reading. It includes an enormous cast of characters, both well known and heretofore unknown. The personalities range from the driven personality of Robert F. Kennedy to the Machiavellian personalities of Middle East political operatives such as those who carry out the eternal guerrilla action of Al Fatah, the PLO and the Israeli CIA, known as the Mossad. Almost every name that was in the news during the 1960's was somehow interconnected in a spider web of power, money and influence. Peter Evans has relentlessly documented all of the meetings, "chance encounters," affairs, and interesting coincidences that controlled the world in which we all coexisted. The average American knew only the faces and the names, but had little idea of the actual deals that were being made and the hatred that existed between two powerful and relentless adversaries: Robert Kennedy and Aristotle Onassis. The powerful queen in this political and economic chess game was Jacqueline Kennedy, who played her role with subtlety and purpose.

Presented with this fascinating portrait of almost everyone whose picture has been in the media during the 1960's, the reader is going to have a difficult time keeping up with all persons mentioned. Questions such as "just how did Tina Livanos get photocopies of pages from the notebooks of Sirhan Sirhan to pass on to her daughter Christina at Claridges Hotel?" remain dangling in one's mind. It would have been so useful if the author had at least provided an index so that the reader could verify events more easily. Nevertheless Nemesis will certainly clear up more mysteries than it leaves unsolved. Perhaps we can all wait and hope that someone finds the incriminating contents of the lockbox that the ill-fated Alexander Onassis hid so carefully. Finally all of the truths seem to come out, and with a relentless investigator like Peter Evans on the trail perhaps we shall know all someday. In the meantime, Nemesis is a book the reader will not be able to put aside until the very end.

--Sarah Reaves White


---
Fantasy/SF/Horror Book Reviews
Page One | Page Two | Page Three


---
Click Here to Return to the Book Reviews Index

** To visit the archives of nonfiction books reviewed in The IWJ, please click here.