Windows 2000 Power Toolkit
by Barry Shilmover, Stu Sjouwerman, et al.
New Riders, May, 2001.
Trade Paperback, 929 pages.
ISBN: 0735710619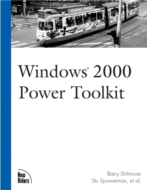 This book covers topics, problems and solutions for users of the Windows 2000 server. The book is organized into six parts, including: an introduction to Windows 2000, Windows 2000 nuts and bolts, networking, system management, Internet access with Windows and an appendix with reference material and information about additional resources. The strength of the
Windows 2000 Power Toolkit
is that it combines detailed instruction, tips and tricks with software tools from the accompanying CD-ROM. The book refers to and explains these third-party tools on the CD-ROM, as well as Windows operating system tools and utilities, throughout the book. The book also provides comprehensive information on both common and advanced Windows 2000 topics. Authors Barry Shilmover and Stu Sjouwerman both have hands-on experience operating Windows 2000 servers and are extremely knowledgeable on the subject. Windows 2000 administrators and users will find this book and collection of software tools very useful.
Windows 2000 Power Toolkit
is available for purchase on
Amazon.com
Note: We may receive a commission from sales made through product links in this article.
This review was published in the July, 2001 of The Internet Writing Journal.
Copyright © Writers Write, Inc. All Rights Reserved.