The Screenwriter's Sourcebook
by Michael Haddad
Chicago Review Press, February, 2005.
Paperback, 368 pages.
ISBN: 1556525508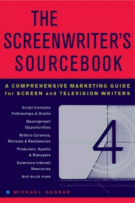 Screenwriting can be a lucrative business, but it is a confusing and unusual business, to say the least. The
Screenwriter's Sourcebook
offers writers an overview of some of the more important events and opportunities they can use to break into the industry. Michael Hadden says, "the truth is Hollywood is devoted to shutting people out," and that in Hollywood, "It's all who you know." Hadden's advice and large collection of contacts can help you stand out from the large crowd of people interested in breaking into the business. Hadden has compiled details and contact information for screenplay contests, film festivals, agents, managers, producers and organizations so you can get to work building a Hollywood network of your own. The
Screenwriter's Sourcebook
has all the contacts a budding screenwriter needs all organized into one handy reference.
The Screenwriter's Sourcebook
is available for purchase on
Amazon.com
Note: We may receive a commission from sales made through product links in this article.
This review was published in the January-February, 2005 of The Internet Writing Journal.
Copyright © Writers Write, Inc. All Rights Reserved.