The Scarletti Curse
by Christine Feehan
Love Spell, March, 2001.
Paperback, 390 pages.
ISBN: 050552421X
Subgenre: Gothic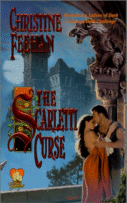 Christine Feehan steps away from her Carpathian vampire romance series into the world of the classic Gothic romance in this historical tale, replete with a dark castle, gargoyles, and a dark, handsome yet terrifying hero with mysterious powers. In old Italy, the beautiful and innocent Nicoletta is a powerful healer, who can also sense things with her mind. The little village where she lives is overshadowed by the wealthy Scarletti family, which is led by the notorious Don Giovanni Scarletti. Scarletti lives in a dark and lavish estate that the locals have dubbed the
Palazzo del Morte
(Palace of Death) for the number of Scarletti wives who have all come to mysterious and tragic ends. When Don Scarletti claims Nicoletta as his bride, Nicoletta is terrified of the Scarletti curse. But as she comes to know the Don, she feels love for him. Nicoletta, although innocent and afraid, determines that she will find out the source of the Scarletti curse and save herself, as well as the Don's charming niece Sophie, who is also in danger.
Christine Feehan, the bestselling author of the popular Carpathian vampire romance series (
See Dark Desire, Dark Gold etc.
), ventures into new ground with
The Scarletti Curse
. Feehan has a gift for creating a delightfully gothic mood, and her foray into this subgenre is sure to be another success for her. There is great passion, a delightfully menacing atmosphere, and a strong heroine: Nicoletta is not going to let brooding heroes or the rumor of an evil curse send her running away. With her new Gothic series, Feehan is sure to have another hit on her hands.
The Scarletti Curse
is available for purchase on
Amazon.com
Note: We may receive a commission from sales made through product links in this article.
This review was published in the June, 2001 of The Internet Writing Journal.
Copyright © Writers Write, Inc. All Rights Reserved.