The Chamber of Five
by Michael Harmon
Knopf Books for Young Readers, June 14, 2011.
Hardcover, 208 pages.
ISBN: B004FGMZ8A
Ages Young Adult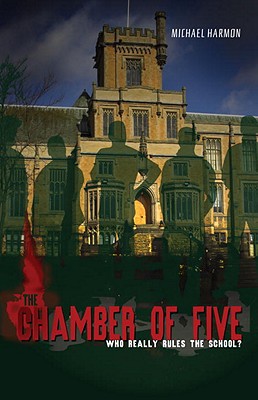 Michael Harmon writes tough, gritty novels for high school and middle school students who are facing some of the most difficult and trying decisions in life. Peer pressure looms over every decision. Parents have hopes for their future. It is these pressures that Harmon's new hero, Jason Weatherby, must weigh against his own sense of right and wrong.
By any measure, Jason Weatherby is a child of privilege. His father holds a high political office, and he is enrolled in a prestigious private school. He is granted entry into the secret society called the Chamber of Five, an elite group which actually runs the school. But Jason has a tough time accepting the privileges of power, and he rebels at peer pressure that rules by intimidation and humiliation. He also is disgusted to see that the sons and daughters of the powerful are granted admission without any outstanding abilities, while more deserving students were denied the opportunities they deserved. Rather than succumb to the dictates of the Chamber of Five, which he finds increasingly malignant, Jason decides to destroy the group from within.
A novel that shows how a main character can combat peer pressure will be welcomed by any middle school or high school librarian or teacher. We need more heroes like Jason Weatherby to show students how destructive peer group practices can be defeated. One caveat for teachers: regardless of the sexual permissiveness that current culture reveres, the humiliation of a sensitive and intelligent girl being forced to remove her blouse and bra in front of a group of pubescent teenage boys may be rather difficult to discuss in a classroom situation.
The Chamber of Five is a fast moving and engrossing novel, and its theme of a young man's struggle against destructive peer pressure and institutional evil is powerful. Views of the world as put forth by some of the characters are cynical and ultimately self -defeating. It is hoped that a class or individual who reads this has had excellent instruction in evaluating literature, and knows how to assign the veracity of attitudes by paying attention to which character voices a particular opinion. The story illustrates the self-defeating attitudes that can be adopted by adolescents with seriously damaging results. Following Jason Weatherby through his setbacks and watching him gain wisdom will be inspiring for any adolescent who is having similar struggles in developing a set of values.
-- Sarah Reaves White
The Chamber of Five
is available for purchase on
Amazon.com
Note: We may receive a commission from sales made through product links in this article.