Rules of Engagement
by Christina Dodd
Avon, October, 2000.
Paperback, 351 pages.
ISBN: 0380811987
Subgenre: Historical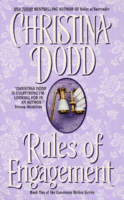 Miss Pamela Lockhart, co-owner of the Distinguished Academy of Governesses, is in a tight spot. The business which has seemed so promising is going to fold if it doesn't get some new clients -- fast. Enter Devon Mathewes, earl of Kerrich. Devon is being blackmailed by his old childhood friend, Queen Victoria. If he doesn't reform his rakish ways and become respectable, she will withdraw her considerable fortune from his family bank. So Devon decides to hire an older, spinsterish governess and adopt a child, to give him an air of respectability. Desperate for the money, Pamela disguises herself as an old crone and takes up her duties as governess to young Beth, an orphan who was easily purchased from the orphanage. Meanwhile, Devon is dealing with a very serious counterfeiting problem at the bank which could destroy his family. To his horror, the Devon gets to know Pamela, the more he finds himself attracted to her. But she's just an old crone...isn't she?
Rules of Engagement
is classic Christina Dodd; it's funny, it's sexy and it's over way too soon. The arrogant Devon is a real marshmallow at heart and his encounters with fatherhood are quite funny. But it is his interactions with the strangely attractive Pamela that are the most entertaining. The dialogue is quick and witty and the two leads are quite endearing. This second entry in the Governess Brides series is not to be missed.
Rules of Engagement
is available for purchase on
Amazon.com
Note: We may receive a commission from sales made through product links in this article.
This review was published in the February, 2001 of The Internet Writing Journal.
Copyright © Writers Write, Inc. All Rights Reserved.