Amazonia
by James Rollins
William Morrow, March, 2002.
Hardcover, 224 pages.
ISBN: 0060002484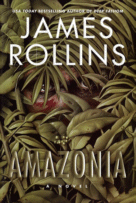 When a CIA operative who was believed dead stumbles out of the Amazonian jungle, his superiors are shocked. But it is not the agent's reappearance that is so unlikely, as it is the fact that his missing arm has been mysteriously regenerated. The operative died of massive cancerous tumors, and it appears that anyone who got near the body is infected with some sort of strange virus. Now the government has organized an expedition into the jungle to find out what happened to the original lost expedition, and to find a cure for the virus that is threatening to become a worldwide epidemic. The group includes Dr. Nathan Rand, whose father was lost on the original expedition, members of the U.S. Army Rangers, as well as some other scientists. The group will encounter everything from giant crocodiles to mutated piranhas to untold secrets about the human genome during their extraordinarily dangerous quest, where things and people are not always what they seem to be.
When you're in the mood for a rollicking good adventure story, pick up the latest
James Rollins
novel. Rollins loves to start with a likeable protagonist, throw him into a difficult situation and let the fun begin. He is adept at pacing, filling the story with non-stop action, mystery and loads of suspense. He perfectly captures the dark and frightening atmosphere of the remote rain forest, where death comes in many forms: from insects, snakes, and other, more mysterious causes, as well. This is the perfect summer read.
Amazonia
is available for purchase on
Amazon.com
Note: We may receive a commission from sales made through product links in this article.
This review was published in the May, 2002 of The Internet Writing Journal.
Copyright © Writers Write, Inc. All Rights Reserved.