A Great and Terrible Beauty
by Libba Bray
Delacorte Press, December, 2003.
Hardcover, 403 pages.
ISBN: 0385730284
Ages Young Adult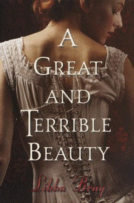 16 year-old Gemma Doyle longs to return to England, where she can go to balls, wear marvelous clothes and meet handsome young men. Living in Bombay, India with her parents and older brother during the British occupation, Gemma constantly bickers with her mother, whom she actually adores. While out walking one day, Gemma's world is devastated when her mother is murdered in circumstances that suggest the supernatural. The family returns to England, and Gemma is packed off to boarding school. As the newcomer to the Spence Academy, Gemma is tested by the popular girls, as she struggles to fit in. Gemma has always had visions in which she can see the future, but has hidden her talent from everyone. When she finds an old diary of a former Spence student in a cave near the school, Gemma's latent powers begin to surface. With her new friends, Gemma explores her new ability to visit another realm and learns more about an ancient group of female sorceresses known as The Order. Members of the Order could open the door between worlds. But there are those who don't want Gemma's powers to flourish and danger stalks both Gemma and her friends.
Libba Bray
neatly crosses genres in this stunning debut novel, which addresses the issues of Victorian repression, sensuality, the British caste system and the role of women in society. As the girls of Spence learn painting, dancing and flower arranging, preparatory to their launch into society to find a wealthy husband, they struggle with the same things that today's teens also struggle with: finding an identity, being liked, and not making an utter fool of one's self. Ms. Bray has a compelling writing style: her characters have depth, her dialogue sparkles and her sly sense of humor adds an imaginative spark to story. Gemma is a heroine that women of all ages will relate to: her longings, her passions and her guilt over arguing with her mother right before she died is heartrending. The Victorian, almost gothic, setting is used to great effect, and the supernatural sequences are vivid and exciting. Libba Bray is a talent to watch.
--Claire E. White
A Great and Terrible Beauty
is available for purchase on
Amazon.com
Note: We may receive a commission from sales made through product links in this article.
This review was published in the January-February, 2004 of The Internet Writing Journal.
Copyright © Writers Write, Inc. All Rights Reserved.