Zen Attitude by Sujata Massey Review
HarperCollins, June 1998.
Paperback, 312 pages.
ISBN: 006104444X.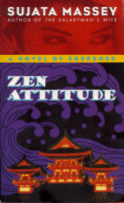 Japanese-American antiques dealer Rei Shimura enjoys her life in Tokyo with her live-in love, Hugh Glendinning, an international lawyer. When Hugh's good-for-nothing younger brother lands on their doorstep and Rei purchases an ancient tansu (chest of drawers) for far more than it's worth, her troubles are only just beginning. It seems that the tansu is not quite what it seems and that a number of people are willing to kill to get their hands on it, especially after the con man who sold her the tansu in the first place is found murdered before Rei can speak with him. The mystery centers around a Buddist temple where Rei is beginning to learn more about Zen Buddism in between dodging attempts on her life and trying to salvage her rapidly-deteriorating relationship with Hugh. During her adventures, Rei is determined not to give up her beloved home in Tokyo or the life she has worked so hard to build in the foreign land she has come to love.
Zen Attitude is a fascinating second mystery from the author of The Salaryman's Wife. Rei is a unique and forceful heroine whose life makes for fascinating reading, even without the excitement of the mystery plot. The contrasts between old and new Japan are revealed throughout the story in the settings (the beautiful and ancient temple and the ancient festival vs. the customs of modern day executives) and in the attitudes and actions of the characters (the formal behavior of Rei's Japanese relatives vs. her American longing for independence and action). A fresh and intriguing read which will only whet readers' appetites for more entries in the series.
--Claire E. White
Ordering information: Amazon.com.


---
More from Writers Write
---