You Belong to Me by Mary Higgins Clark Review
Simon and Schuster, April 1998.
Hardcover, 317 pages.
ISBN: 0684835959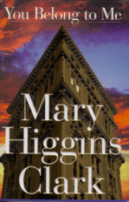 Regina Clausen, a successful 43-year-old investment banker, set off on a world cruise on a luxury liner and never came back. Her disappearance after she disembarked for a detour through Hong Kong baffled the scores of police and private investigators hired to find out what happened to her. Three years later, the Clausen disappearance is the subject of a talk radio show called "Ask Dr. Susan" hosted by former attorney and current psychologist Dr. Susan Chandler. One of the callers to the show identifies herself only as "Karen" and says that she has information which might shed some light on the Clausen disappearance. On a cruise two years ago, she met a man she became interested in who asked her to leave the cruise ship. He gave her a ring with the inscription "You Belong to Me." She reconciled with her estranged husband and never met the man. Karen agrees to bring her evidence to the radio station. But before she can get there, she is pushed in front of an oncoming car and lapses into a deep coma. Worried and suspicious, Susan decides to investigate further. When another woman dies, Susan is forced to conclude that the killer is alive and is determined to keep his identity hidden at any cost -- including Susan's life. Nevertheless, Susan launches her investigation and sets out to trap a killer who preys on the loneliness of women.
You Belong to Me is a stunning and dramatic suspense tale which grips the reader from the chilling opening paragraph. With a fascinating plot line which resonates with dark overtones and a lovable and intriguing heroine, this latest offering from the Queen of Suspense is a must-read for anyone who loves a spine-tingling, entrancing tale, excellently told.
Ordering information: Amazon.com.
---
More from Writers Write