Writing the Private Eye Novel Review
Writing the Private Eye Novel
Edited by Robert J. Randisi
Writers Digest Books, Sept., 1997.
240 pp. ISBN: 0898797675
Paperback.
Ordering information:
Amazon.com.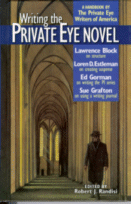 Have you ever wanted to write a private eye novel but didn't know how or where to start? This handbook by The Private Eye Writers of America is a mini-course on the subject taught by the pros: Sue Grafton, Parnell Hall, Lawrence Block, Ed Gorman and many more who give you the tools you need to craft a private eye novel or short story that will sell.
With detailed advice on subjects such as getting started, plotting and structure, creativity, character and settings, as well as tips from Editor Michael Seidman (Walker & Co.), Writing the Private Eye Novel is an excellent addition to your writing resource library.
---
More from Writers Write