Writing in Flow by Susan K. Perry, Ph.D. Review
Writer's Digest Books, May 1999.
Hardcover, 274 pages.
ISBN: 0898799295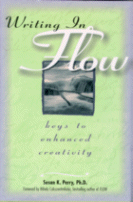 Writing in Flow introduces and discusses the concept of flow, which is a period of enhanced creativity, similar to the condition athletes refer to as "in the zone." Writing in Flow teaches writers how to obtain a sense of flow and manage it to enhance their creativity and their work. The book also provides perspectives on creativity from numerous bestselling authors including: Sue Grafton, Jane Smiley, Faye Kellerman, Michael Connelly, Usula K. Le Guin and many others. The concept of flow is introduced to readers by Susan K. Perry, Ph.D., an author and social psychologist who is also an instructor at the UCLA extension writer's program.
Perry analyzed the traits of bestselling and prize-winning writers and developed a psychological assessment of how great writers create their work. She combines the results of her study with practical advice for writers and conveys this information to the reader. The book provides coverage of each of the five keys to enhanced creativity which include: have a reason to write, think like a writer, loosen up, focus in and balance among opposites. Other sections in the book provide special techniques for developing flow and how to use flow to break-through writer's block.
With in-depth information on the psychological aspect of creativity and briefs by bestselling writers on their writing style and what inspires them, this is an enjoyable read and valuable learning aide for developing writers. Perry also provides answers to questions from students and friends during her study of flow throughout the text of the book. Writing in Flow is an excellent and unique guide for enhancing your creativity and inspiring yourself to write regularly.
Ordering information: Amazon.com.
---
More from Writers Write