Writing Book Reviews
Page Two of Two
Strictly Murder: A Writer's Guide to Criminal Homicide by Martin Roth
Siles Press, March 1998.
Hardcover, 208 pages.
ISBN: 1890085030
Ordering information:
Amazon.com.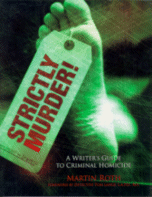 This unique reference book for crime writers covers different kinds of murders from initial investigation to their prosecution. Written by expert Martin Roth, screenwriter for mystery television series including
Hawaii Five-O
,
Hart to Hart
and
It Takes a Thief
, the book helps writers accurately describe police investigation practices. The book includes information on causes of death, criminal homicide, contract killers, organized crime, domestic murders, serial killers, terrorism, motives for murder, private investigators, bounty hunters, murder weapons, crime labs, courtrooms, medical examiners and other subjects. The book also includes homicide photographs, crime lab photographs and informative question and answer sections. Also included in the book is an actual "Murder Book" -- a complete murder report, including all paperwork, from the Los Angeles County Sheriff's Department that follows a murder from its initial report to the arrest of the subject.
Strictly Murder
is an excellent guidebook for mystery writers that will help writers add reality and appeal to their mystery fiction. In addition, Martin Roth provides the facts in an interesting and compelling manner making
---
The Writer's Digest Handbook of Novel Writing by the Editors of Writer's Digest
Writers Digest Books, Feb., 1998.
Trade Paperback, 260 pages.
ISBN: 0898798310
Ordering information:
Amazon.com.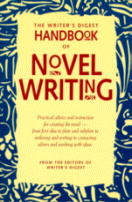 This handbook for novel writing includes over thirty short how-to and advice articles written by well-known authors and book and magazine editors. The articles address concerns and problems beginners face in tackling novel writing including plotting, outlining, contacting editors, agents, creating characters, writing love scenes, flashbacks, choosing a category and finding ideas. Some of the popular authors the articles are written by include Tom Clancy, Dean R. Koontz, Lawrence Block and Orson Scott Card. Some highlights from the book include "When Should You Put Yourself in an Agent's Hands?" by Dean R. Koontz which dispels some of the myths surrounding agents; "Negotiating Your Book Contract" by book editor Michael Seidman, which explains what is involved in a book contract negotiation and "Choosing Your Storyteller" by science fiction author Joel Rosenberg, an article about choosing the point of view.
The Writer's Digest Handbook of Novel Writing is a solid instruction book with excellent advice and ideas from established authors and editors. A practical and inspirational guidebook for those beginning on the journey of novel writing.
---
Writing Articles About the World Around You by Marcia Yudkin
Writers Digest Books, Feb., 1998.
Trade Paperback, 217 pages.
ISBN: 0898798140
Ordering information:
Amazon.com.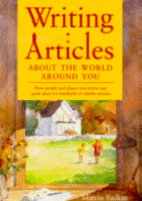 Having trouble coming up with an idea for that next article? In this guidebook on writing and selling articles freelance writer and author, Marcia Yudkin, teaches you how to write successfully using what you know and your own experiences. She explains that, "You don't need to scheme your way behind gates in Hollywood or uncover the smoking gun for our next national scandal in order to attract the attention of editors." Subjects addressed in the book include using your experiences, using what you know, using a local angle, query letters, researching, interviewing, structure, rewriting, dealing with editors and building your freelance writing career. Yudkin includes personal experience anecdotes from her career, examples, question and answer sections and interesting facts to strengthen her message to the reader. A great book for freelance writers packed with tips and advice from an expert freelancer.
---
Click Here For Page 1 of Writing Book Reviews
Return to Book Reviews Index
---
More from Writers Write
---