Word Court by Barbara Wallraff Review
Harcourt Brace, January 2000.
Hardcover, 368 pages.
ISBN: 0151003815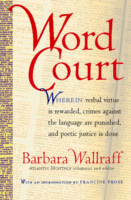 In today's world of cryptic email communications and high school graduates who are unable to express themselves clearly in their native language, the existence of Word Court, the popular grammar and style column written by Barbara Wallraff, is welcome proof that people still care about good writing. As an editor of Atlantic Monthly, Wallraff has reviewed the galleys of every article, short story, poem and feature scheduled to appear in the magazine since 1983. Her "Word Court" column answers readers' sometimes outraged questions about grammar and style with her trademark wit, humor and practicality.
Her new grammar and style reference book is filled with grammar tips, explanations of common grammatical errors and answers to numerous grammar-related questions to help writers express themselves clearly. The book also includes some of the best question and answers from Wallraff's column. Topics in the book include trends in language, why people care about grammar, common grammar mistakes and grammar usage. A particularly useful section is entitled "A Grammarian's Dozen," in which Wallraff discusses thirteen grammar issues that plague writers. Another useful section in the book is an alphabetical usage guide which covers often abused and confused words, such as "And, But, Or", "Bi-", "Data", "Moment, Moments" and "While."
Barbara Wallraff's Word Court is a book that should be on every writer's reference shelf. Short story writers and freelance writers will also find it useful to see what grammar and style issues are considered important by a top literary editor. Scholars, students and word lovers will also enjoy this authoritative grammar compendium, which is as entertaining as it is useful. Highly recommended.
Ordering information: Amazon.com.
---
More from Writers Write