Wolf Brother by Michelle Paver Review
Wolf Brother: Chronicles of Ancient Darkness Book 1
by Michelle Paver
HarperCollins, February, 2005
Hardcover, 295 pages
ISBN: 0060728256
Ages 10 and up
Ordering information:
Amazon.com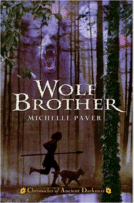 6000 years ago, the great forest covered most of what is now Northern Europe. 12 year-old Torak lives a nomadic but happy life with his father, until the day his father is attacked and killed by a bear which is possessed by a terrifying demon. On his deathbed, Torak's father apologized for not telling Torak all the things he needs to know about his past and his destiny, but makes Torak promise to find the Mountain of the World Spirit and save the World from the Spirit of the Otherworld that is possessing the Bear and which will devour the Forest and everything in it. Torak tearfully promises to do so and begins to look for the guide his beloved Fa promised him would appear. The guide does appear in the form of a wolf cub, and the two set out on a journey to the Mountain of the World Spirit. Torak and Wolf learn to communicate, but get captured by the Wolf Clan. Torak learns more about his past and escapes with the help of a Wolf Clan girl, Renn. But the trio has many more dangers to face on their journey, and the Bear is close on their trail.
British author Michelle Paver traveled through the forests of northern Finland and Lapland, sleeping on reindeer skins and eating forest berries and lichens before writing
Wolf Brother
, and her painstaking research shows through in the many intriguing details of life in the prehistoric forest. Wisely, the author adds magic and prophecy to her story; Torak must solve mysterious riddles and find three ancient artifacts before he is deemed worthy to climb the Mountain of the World Spirit. The clean, spare prose is sprinkled with subtle humor and real heart, making for a surprisingly realistic, deep and nuanced story.
---
More from Writers Write
---