Wine for Every Day and Every Occasion Review
by Editor
Full Title:
Wine for Every Day and Every Occasion: Red, White, and Bubbly to Celebrate the Joy of Living
Authors: Dorothy J. Gaiter, John Brecher
William Morrow, October, 2004
Hardcover, 406 pages
ISBN: 0060548177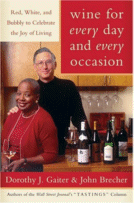 There are two kinds of reference books about wine: the straightforward guides that list grape varieties, vineyards, vintages, and the like that one consults from time to time like a dictionary, and the more personal kind of guide in which the author leads the reader through his ideas of how to choose a wine and how wines have affected his life. This is the second kind of book, and it is most entertaining. Dorothy Gaiter and John Brecher, authors of the Tastings column for the Wall Street Journal believe that choosing a wine shouldn't be a frightening experience. Their friendly, approachable style has earned them a multitude of fans.
Their guide is organized by occasions, such as Thanksgiving, weddings wine tastings, Christmas, New Year's Eve, Valentine's Day and the like. Written in a chatty and anecdotal style, the book makes a multitude of suggestions for each occasion providing options for all budgets. But perhaps the most useful part of the book are the lists of practical advice covering what to do when you buy wine at the grocery store, when you buy wine at a wine shop, how to order wine when you travel, what gifts to give to a wine lover (even if you know nothing about wine) and tips for visiting wineries. This is an informative, friendly guide that deserves to be read cover to cover.
Ordering information: Amazon.com
---
More from Writers Write