Wilderness by Dennis Danvers Review
by Editor
Eos, June 2000.
Paperback, 376 pages.
ISBN: 0380806460.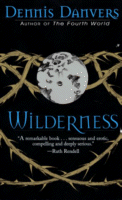 Alice White is not your average young woman; in fact, she's a werewolf. Isolated and alone, not even her shrink really believes that she turns into a wolf when the moon is full. Alice has taken great care not to injure anyone; she has a special cage built in her basement in which she barricades herself when the moon is full. But when Alice meets Erik Summers, a college professor and biologist, she is immediately attracted to him. The pair fall in love, but when Alice tells Erik her secret, he thinks she's nuts. Meanwhile, Erik's manipulative ex-wife has shown up and is determined to get Erik away from his new girlfriend. When Alice disappears, Erik sets out to find her and to enter a world he never dreamed existed.
Dennis Danvers, the author of The Fourth World and Circuit of Heaven, shows a different side of his talent in this novel which was written in 1991. Danvers rises above all the clichés of the werewolf stories and films and creates a moving, sensitive and thought-provoking story. Part love story, part horror story, and part transformation tale, Wilderness is sure to hold your attention -- and give you a different outlook on the life of werewolves.
Ordering information: Amazon.com.
---
More from Writers Write