Which Lie Did I Tell? by William Goldman Review
Pantheon, March 2000.
Paperback, 485 pages.
ISBN: 0375403493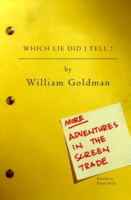 Which Lie Did I Tell? is a follow-up to Adventures in the Screen Trade, by extremely successful screenwriter and novelist William Goldman, which exposed Hollywood politics and stardom and provided screenwriting know-how. In his new screenwriter's aide, Goldman again amazes with his immense knowledge of screenwriting, the movie business and the bizarre, stress-ridden lifestyle of the screenwriter. Goldman guides screenwriters through the world of screenwriting, providing tips on surviving rejection, examples of what makes a good screenplay (and what doesn't), as well as methods for pitching scripts. He also discusses his own triumphs and failures and tells stories about working with famous Hollywood actors and legends such as Rob Reiner, Mel Gibson, Michael Douglas, Chevy Chase, Clint Eastwood and many others. To aide the budding screenwriter, Goldman provides excerpts and analysis of some of his own screenplays such as Absolute Power, Butch Cassidy and the Sundance Kid and The Princess Bride, as well as excerpts from screenplays by others, including There's Something About Mary, When Harry Met Sally and Fargo. With each script excerpt Goldman explains what works and why.
William Goldman is an Oscar award-winning screenwriter and bestselling novelist. Some of his well-known work includes Butch Cassidy and the Sundance Kid, The Stepford Wives, All the President's Men, Misery, Maverick and Marathon Man. His insight into screenwriting and Hollywood is both incredibly enlightening and often hilarious -- and maybe even frightening to the budding screenwriter.
"You meet people in this business, and one thing you must know is that just about everyone you come in contact with seems shockingly normal. Don't be fooled. Since movies succeed by word of mouth, something you cannot manufacture, everyone in the business is constantly in fear of losing their sport by the fire. Since they have no idea what go them there in the first place, this all makes for a certain lunacy and insecurity. Everyone assumes, correctly, that being writers, we are already loony and insecure."
A great read for aspiring screenwriters and anyone interested in the inner-workings of the movie business. Highly recommended.
Ordering information: Amazon.com.
---
More from Writers Write