When Last Seen Alive by Gar Anthony Haywood Review
Putnam, Jan., 1998.
Hardcover, 223 pages.
ISBN: 0399143033.
Ordering information:
Amazon.com.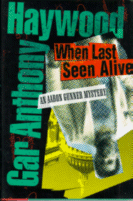 Private eye Aaron Gunner is back in this 5th installment of the gritty detective series set in South Central L. A. While already on a case to track down the infidelities of high-profile city councilman Gil Everson at the behest of Everson's irate wife Connie, Gunner gets approached by a new client, the lovely Yolanda McCreary. It seems that Yolanda's brother, Elroy Covington, met Gunner one night while at the Million Man March in Washington, D. C. and took one of his cards. Unfortunately, Covington never made it home from the March; one of the few things he left behind was one of Gunner's cards. Gunner doesn't remember meeting Covington, but decides to take the case.
As Gunner looks deeper into the disappearance of Covington, it soon becomes clear that several groups have an interest in his investigation, not all of them friendly. He's kidnapped by a radical group known as the Defenders of the Bloodline who look like the prime suspects in the Covington's disappearance. Then he's picked up by the FBI who wants him to act as bait so they can trap the Defenders of the Bloodline. Caught in the crossfire, his own life threatened, Gunner must make some tricky decisions in order to solve both cases and protect his life and that of his attractive client.
Haywood continues to shine in the PI genre. Aaron Gunner is a complex and intriguing man trying to make his way in the gritty underground world of South Central L. A. The characters who populate Gunner's world are vivid and strong and fit well into the landscape that Haywood has painted for them. With a clear eye for detail, an excellent ear for dialogue and a talent for slipping social commentary between the lines, Haywood is a talent to be reckoned with.
--Claire E. White
---
More from Writers Write
---