What A Woman's Gotta Do by Evelyn Coleman Review
by Editor
Simon and Schuster, March, 1998.
Hardcover, 309 pages.
ISBN: 0684831759.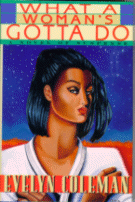 An orphan raised in a series of foster homes, each worse than the last, journalist Patricia Conley learned early on how to fend for herself. Fiercely independent and cynical, she has always considered herself to be "a brother's worst nightmare." So when she decides she has finally found the man she can trust and share her life with she's happy -- until he stands her up at the altar. Then, to make matters worse, he disappears leaving behind a safety deposit box with a cryptic letter, a giant diamond ring, a beautiful necklace and one very angry and confused Sistah. When her apartment is ransacked and she's nearly abducted, Patricia knows that whatever her missing fiance was into was illegal and quite possibly deadly. Determined to solve the mystery and get back control of her life, Patricia is forced on the run from danger. Along the way she encounters a host of oddball characters including an elderly Cistercian monk, an ancient and mysterious West African tribe called the Dogons and a brilliant computer hacker named Prof . As she works towards finding the solution to who is trying to kill her and why so many people seem to want her diamond ring, Patricia must look deep within herself to find the strength she'll need to find the solution to the mystery, save her life and those of her friends and find a way to fill the emptiness in her own soul.
Acclaimed children's author Evelyn Coleman bursts on the thriller scene with her exciting new heroine, Patricia Conley. An interesting mix of thrills, mysticism, intrigue and cutting edge genetic theories, What A Woman's Gotta Do is a unique and exciting thriller which will keep you hooked from the minute you read the slam bang opening paragraph right through to the shocking denouement. Conley's voice is strong and refreshing in a genre that can easily grow stale. Funny, fresh and fantastic, What A Woman's Gotta Do is a thriller with a heart. With its endearing heroine, social commentary and fast pace, readers are sure to want more adventures for Patricia Conley and look forward to her growth as a person in future books.
Ordering information: Amazon.com.
---
More from Writers Write
---