Watermelon by Marian Keyes Review
Avon, July 1998.
Hardcover, 417 pages.
ISBN: 038097617X.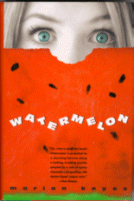 To 29 year old Claire, life is pretty good.
She has a beautiful newborn daughter, a loving husband and even a job she likes. But on the day of the birth of her daughter, her world comes crashing down around her when her husband marches into the recovery room to inform her that he is leaving her for the frumpy woman who lives downstairs. Devastated by this betrayal, she heads home to Dublin to recuperate with the help of her well-meaning, if somewhat bizarre, family: her beautiful sister Helen, her hippie/New Age loving sister Anna, her neurotic mother and a gorgeous hunk who just happens to be one of Helen's cast-off suitors. As Claire struggles with post-partum depression, the hilarious machinations of her family and the reconciliation attempts of her spineless, philandering soon to be ex-husband James, she eventually comes to some decisions about her life that will change things forever.
Readers will welcome the talented new voice of Irish novelist Marian Keyes. The saga of Claire is mesmerizing, hilarious and heartbreaking all at the same time. Claire herself is a lovable heroine, whose sense of humor eventually emerges intact regardless of her circumstances. A charming heroine and a quirky cast of characters make for a novel that will have you laughing out loud as you root for the beleaguered Claire. Highly Recommended.
Ordering information: Amazon.com.
---
More from Writers Write
---