Violets in the Snow by Patricia Grasso Review
Dell, Jan., 1998.
Paperback, 356 pages.
ISBN: 044022408X.
Ordering information:
Amazon.com.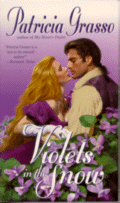 Isabelle Montgomery is all alone in the world except for her adored older brother, Miles and a guardian angel, Gisell, whom only she can see. When Miles goes to the colonies to pursue a business venture Isabelle is left at the mercy of her hated stepmother and detestable two stepsisters. Then, to make matters worse, she discovers that Miles has arranged for her to have a guardian while he is away: Lord John Saint-Germain, one of London's wealthiest and most notorious rakes. Saint-Germain sweeps into the picture and carries off a reluctant Isabelle and her eager stepfamily to London for proper debuts in order to catch husbands. But somewhere along the way, Lord Saint-Germain discovers a passion for his ward which is only dampened by the fact that she talks to her "imaginary friend", making her appear unstable. While these two fence with each other to discover their true feelings, danger lurks in the form of Saint-Germain's brother-in-law who irrationally blames Saint-Germain for his sister's death and will do anything to have his revenge -- including ruining Isabelle.
A Cinderella story set in a Regency background,
Violets in the Snow
is a charming romantic fairy tale. Saint-Germain is a lovable rascal with a kind and passionate heart under his commanding exterior. Isabelle is a lovable heroine as is her guardian angel, Giselle. A light-hearted read with an appealing storyline,
Violets in the Snow
will delight lovers of fairy tales and romance.
---
More from Writers Write