Triple Cross by Peter lance Review
ReganBooks, November, 2006
Hardcover, 604 pages
ISBN: 0060886889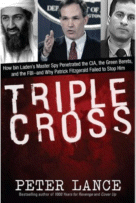 Emmy-winning investigative reporter Peter Lance fully exposes the shocking facts behind the career of Osama bin Laden's top spy, who successfully infiltrated the Green Berets, the FBI, and the CIA in the years leading up to the 9/11 attacks in his third hard-hitting expose about 9/11 and the cover up of FBI bungling (
See, 1000 Years For Revenge
and
Cover Up
).
Former Egyptian army major and al Qaeda operative Ali Mohamed was Osama bin Laden's trusted lieutenant and bodyguard, yet he managed to join the U.S. Army, infiltrate U.S. intelligence agencies and even work for the CIA on a contract basis. At the same time Mohamed was secretly helping Osama bin Laden orchestrate the African Embassy bombings, he was also working for the CIA's European Division and for the FBI in California. He managed to steal top-secret memos and classified intelligence from Fort Bragg and gave it to the al Qaeda leadership. Mohamed had an incredibly successful career from 1981 and 2001 and caused immeasurable damage to the United States.
After doing extensive research, Lance came to the conclusion that the FBI's failure to prevent the African embassy bombings in 1998, the deadly assault on U.S.S. Cole in 2000, and the 9/11 attacks themselves, went beyond gross negligence. The trail of evidence showed that some FBI officials and the federal prosecutors at the Department of Justice eventually realized that they had been duped in an astounding way. After that realization, the cover ups started.
Patrick Fitzgerald, who is best known as the prosecuting attorney in the bungled Valerie Plame leak case, called Mohamed "the most dangerous man he had ever met" and that he "couldn't be allowed to walk the streets." Yet time and time again, the FBI and the Department of Justice failed to follow obvious clues and to pursue standard procedures which could have led to the uncovering of the 9/11 plot and the al-Qaeda cell that operated openly on U.S. soil for five years before 9/11. Mohamed has never paid for his crimes: he's in some kind of secret witness protection program after cutting a deal to escape the death penalty.
This horrifying story of how the Chief of Security for Osama bin Laden and Ayman Al-Zawahiri managed to become one of the most successful spies ever to operate on U.S. soil reads like a thriller: but all the facts in the book are true, with thousands of pages of supporting documentation. The photographic timeline which clearly lays out all the players and events leading up to 9/11 itself is worth the price of the book.
The 9/11 Commission was staffed by all the people who made the mistakes that led up to 9/11: and the 9/11 Report does not blame even one person at any intelligence agency-there is no accountability for the worst terrorist strike on U.S. soil. In fact, several people got medals. Triple Cross names names and shows where the gross negligence occurred in the Department of Justice and the FBI. Triple Cross is a must-read for anyone who is interested in the facts underlying the attacks of 9/11 and the 9/11 Commission Report which whitewashed those facts.
--Claire E. White
Ordering information: Amazon.com


---
More from Writers Write