Touch Not the Cat by Tracy Fobes Review
Pocket Books, October 1998.
Paperback, 352 pages.
ISBN: 0671024671.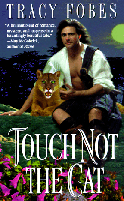 In the Scottish Highlands in 1427, the MacClellands and the MacQuades are continuing the ancient blood feud between the two neighboring clans. Because of a dastardly deed performed by a MacClelland on a MacQuade, a druidic witch of the MacQuade clan places a horrible curse on the females of the MacClelland clans: periodically they shape shift into the dreaded grimalkin, a leopard-like beast, and they always die in childbirth. In 1817 London, Nicholas, the Duke of Efington, has his eye caught by Catherine MacClelland at a ball attended by the ton. Subsequently blackmailed into a marriage with Catherine by Catherine's father, a Scottish Laird, before he knows it, the couple are now faced with a life together in spite of the fact that they can't stand one another. But all is not as it seems; Catherine suffers from the clan curse and cannot hide it from her new husband. The couple must come to terms with Cat's incredible magical enchantment, and see if there is a way to break the curse. But many obstacles stand in their way, including their own stubbornness and a murder plot against Nicholas.
Touch Not the Cat is an intriguing and passionate story of love, betrayal and magic. The storyline is fresh and compelling, and the two main characters are vividly portrayed. The fairy magic of the Scots is woven throughout the tale and gives a mystical atmosphere that will appeal to lovers of romance and fantasy alike. An excellent debut.
Ordering information:
Amazon.com.
---
More from Writers Write