The Vineyard by Barbara Delinsky Review
Simon and Schuster, June 2000.
Hardcover, 368 pages.
ISBN: 0684864843.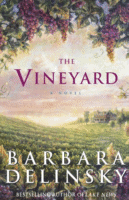 Seventy-six-year-old Natalie Seebring has spent her life running the family vineyard in Rhode Island. Six months after her husband dies, Natalie shocks her grown children by announcing that she is marrying an old friend. Natalie, unhappy with the estrangement with her children, decides to write a no-holds-barred memoir which will reveal her darkest secrets. Natalie hires single mom and and antique photograph restorer Olivia Jones to assist her in writing the memoir. Olivia jumps at the chance to spend the summer at the vineyard with her dyslexic daughter, Tess. Olivia was deserted by her mother and her husband, leaving her to fend for herself and her tiny daughter. But summer at the vineyard is not easy for Olivia. She must act as a buffer between Natalie and her hostile children, and deal with the antipathy of the handsome Simon Burke, who runs the vineyard. Simon lost his wife and daughter in a tragic accident and is definitely not looking for a replacement family. As Natalie's past life unfolds in the memoir, lives are changed as everyone's impressions and long-held assumptions about Natalie are forever altered. Olivia, a bit of a dreamer, is powerfully affected by Natalie's story -- can she find a way to heal the wounds in the Seebring family and find happiness and a home for herself and her daughter?
The Vineyard is a powerful and moving novel which works on several levels. At the heart of the story is a fascinating theme about whether the older generation really had it easier than does the modern generation. Life was simpler in some ways for those that lived through the Depression and World War II, but what that generation sacrificed is hard for today's youth to imagine. Natalie's and Olivia's lives have eerie parallels; they have both experienced love, loss, sacrifice and the almost impossible choices that a woman is sometimes asked to make for love. The beautiful Asquonset Vineyard provides a fitting backdrop; the vines themselves must battle the elements in order survive. Delinsky's ability to capture subtle and complex family relationships is in full evidence here, and the story is bound to touch even the most hardened heart. Highly recommended.
Ordering information:
Amazon.com.
---
More from Writers Write