The User Manual Manual by Michael Bremer Review
The User Manual Manual
by Michael Bremer
Untechnical Press, November 1999.
Trade Paperback, 314 pages.
ISBN: 0966994914
Ordering information:
Amazon.com.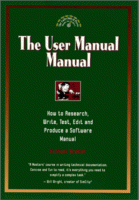 The User Manual Manual
helps to demystify the process of writing a software manual from start to finish. The guide begins with general information about software manual publishing, the different types of manuals and companies and development teams. The second part of the book is a sample project that guides the reader through the complete development of a manual and includes all the steps involved: project overview, writing the manual, validating, rewriting, editing, layout, final edits, printing, producing onscreen help, writing the readme and project backup. The third section in the book is the exhibits section which includes checklists, example documents, screen samples and a sample manual. The appendix in the book contains a list of recommended reading.
Author Micheal Bremmer, who was a writer, editor, writing manager and Director of Creative Services at Maxis software (the company responsible for SimCity), has created an indespensible guide to manual writing. Packed with instruction, checklists and samples, this reference is a must-read for technical writers.
---
More from Writers Write