The Unlikely Angel by Nadine Miller Review
Signet Regency Romance, April, 1998.
Paperback, 224 pages.
ISBN: 0451194675.
Ordering information:
Amazon.com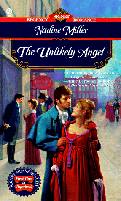 Tess Thornhill is the daughter of a rich London merchant. Shunning her luxurious lifestyle and considered an old maid at 25, Tess has devoted her life to helping those less fortunate than herself in London's worst slums by running the Laura Wentwood for Abandoned Children, many of whose occupants are castoffs of London's most notorious rakes and their conquests. When her landlord raises the rent Tess marches forth to do battle with Justin Anthony Warre, Viscount Sanderfield, whom she envisions as a seducer of poor servant girls who cares only for his own selfish pleasures. Arriving on the Viscount's doorstep, she finds him to be totally unlike what she was expecting. Born with a club foot, forced to work around his own disability all his life, the Viscount is strong, quiet and actually willing to listen to her pleas for the abandoned children -- one of whom was sired by his own reprobate brother. Viscount Sanderfield, home from a long foreign sojourn to claim his rightful title as the next Duke of Sanderfield, is intrigued by "Terrible Tess" who, although highborn, spends all her time helping the poor and trying to assist her would-be suitor Drew Wentworth (a reformer with political aspirations) run for office on a platform of welfare and child labor law reform. Soon both Tess and Lord Warre find themselves attracted to each other despite all their differences. Thrust into political intrigue and a romantic triangle both Tess and Justin must fight to find true love -- and a way of life they can both embrace.
Nadine Miller has created a fascinating and unique Regency romance with a conscience. Painstakingly researched,
The Unlikely Angel
provides a shocking glimpse into the life of London's lower strata of society. Child labor, prostitution and theft are common in the slums which are a world removed from the elegance of the ton. Tess and Justin are believable, flawed human characters who overcome the obstacles put before them. An excellent romance that will entertain while making you think.
---
More from Writers Write
---