Fantasy/SF Book Reviews
Crown, Feb., 1998.
Hardcover, 343 pages.
ISBN: 0609601121.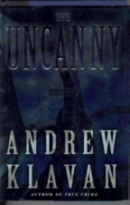 Richard Storm, a Hollywood producer of horror films, has been told that because of a brain tumor he only has sixth months to a year left to live. He has decided to spend this time in England with the hope that he will see a real ghost before he dies. To aid his goal Storm signs on as on a nonpaying freelancer for Bizarre!, a magazine that looks into unusual occurrences. Bizarre! has a medium-sized circulation nearing 100,000 and is run by Harper Albright, who also investigates paranormal activities for the publication.
While Storm is reading a ghost story named "Black Annie" at a party for a gothic literature group, a beautiful young woman named Sophia Endering drops her wine glass at an exciting moment in the story. Although Storm knows it is impractical, not only because she is so much younger than him but also because of his approaching death, he can not help but pursue her. His pursuit of the young woman leads him to an art auction where he finds that some of the artwork is related to the ghost story he was reading. Here the mystery begins as their lives, the ghost of "Black Annie" and a series of artworks intertwine. The mystery becomes more outrageous and sinister as is develops -- even involving an evil cult leader and Nazi secrets.
The Uncanny, written in a gothic style, is an interesting mix of horror, mystery and suspense. Some appealing ghost stories also appear within the novel that add depth and interest to the work. A unique novel that will appeal to lovers of gothic horror and old English ghost stories as well as mystery readers who love elements of the occult or supernatural.
Ordering information: Amazon.com.
---
More from Writers Write
---