The Toyotomi Blades by Dale Furutani Review
St. Martins, October, 1997.
224 pp. ISBN: 0312170505
Hardcover.
Amazon.com.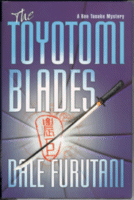 Out of work computer programmer and amateur sleuth Ken Tanaka gets invited to Japan to appear on television to discuss a murder he solved. His excitement at appearing on TV quickly turns to apprehension as Ken lands smack in the middle of a new mystery involving an ancient samurai sword that he bought at a garage sale in L.A, a hidden treasure and the Japanese Mafia. Speaking no Japanese yet looking like a native, Ken feels out of place in his ancestral homeland. When his actress girlfriend Mariko joins him in Tokyo Ken is thrilled - until it looks like she may also be drawn into the danger surrounding the mystery of the ancient samurai sword right along with him.
The Toyotomi Blades
is the second book in this entertaining new series by
Dale Furutani
featuring the first Asian-American fictional amateur detective. Written with a clear prose style, this fast-paced story is a joy to read. As the story follows Ken through Tokyo and the surrounding environs in a search for a centuries-old treasure, you can't help but fall for this lovable amateur detective with his unassuming personality and wry sense of humor. This book is just as much fun as Furutani's first book,
Death in Little Tokyo
. The character of Ken Tanaka is a delight to get to know, the mystery is intriguing and the details of a Japanese American's first look at Japan are a fascinating part of the story. If you haven't been introduced to Dale Furutani's mysteries, you are missing a real treat.
---
More from Writers Write
---