The Secret Birthday Message by Eric Carle Review
The Secret Birthday Message
by
Eric Carle
(author/artist)
HarperFestival, Feb., 1998.
Board Book, 22 pages
Ages: Preschool
ISBN: 0694011487.
Ordering information:
Amazon.com.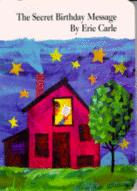 The Secret Birthday Message
, illustrated with Carle's bright, eye-catching collages is the story of Tim, who finds a strange envelope under his pillow the night before his birthday. As in all of Eric Carle's books, there is a theme concept, in this instance, shapes. Tim must follow the shapes in the coded note to find his birthday present. A semi-circle represents the moon, a star represents the biggest star, an oval represents a rock and so on through several other shape clues until at last a darling puppy is peering at Tim through a rectangle (door). As in the original edition, the shapes are cutouts that add an extra bit of challenge for children to poke, peek through and trace. It makes a darling birthday present, but it's enough fun to make it a favorite long past birthday time.
--
Nancy Littlejohn
---
More from Writers Write
---