The Screenwriter's Legal Guide Review
Author: Stephen F. Breimer, Esq.
Allworth Press, July 1999.
Trade Paperback, 299 pages.
ISBN: 1581150210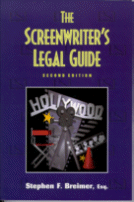 It is imperative that screenwriters have at least a general knowledge of the laws and rights affecting them. The Screenwriter's Legal Guide by author Stephen F. Breimer, a partner at Bloom, Hergott, Cook, Diemer and Klein, LLP, an entertainment law firm in Los Angeles, helps writers obtain a comprehensive overview of the legalese impacting the Hollywood writing business and understand how the movie and television business work from a writer's standpoint. Coverage in the book includes: option/purchase agreements, rights, copyright, agreements, rewrites, commissioned screenplays and teleplays, collaboration agreements, the writer's guild and negotiations. The reference book also provides excerpts of contracts, tips for calculating fees and earnings and a sample option/purchase agreement.
Although it may not be the most exciting or glamorous part of screenwriting, understanding screenwriting contracts and negotiations is essential for any serious screenwriter. Breimer helps novice screenwriters along by supplying the knowledge they need in a clear and concise manner, with occasional snippets and anecdotes from real life to make it easier to absorb. Breimer also provides an overview of the business world of screenwriter -- knowledge that professional writers must have. An essential tool for serious screenwriters.
Ordering information: Amazon.com.
---
More from Writers Write