The Road Not Taken
by Nancy Geary
I've read Robert Frost's poem, "The Road Not Taken," more than a dozen times as part of every American poetry class I have attended in elementary school, high school, and college. It was one of my favorites, the familiar stanzas embracing a lack of convention and a celebration of risk.
I thought it could have been written for my mother.
She is an artist who created a magical world for my sister and me. Our life was full of adventures, projects, conversation, and stories, but decidedly lacking in basic necessities like heat and toilet paper. At one point, we had thirteen cats and nearly as many hamsters. For breakfast, we wore parkas over our nightgowns and ate cereal with the oven door open. I'd skip school when I wanted, and my mother and I would go to the Metropolitan Museum of Art, the Guggenheim, or the Whitney, or we'd rent a rowboat in Central Park and have a picnic. I'd skateboard down the hill outside our brownstone on 95th Street and fly out onto Lexington Avenue while my mother stopped traffic. I missed a solid week of fourth grade to attend a festival of Katharine Hepburn films.
I remember opening the front door one afternoon to find an elderly man rolled up in white paper lying in the living room. My mother was photographing him. I stood and watched as she adjusted the lights, looked through her lens, rearranged a fold in the paper, and looked again. Finally, she noticed me. "I'm just experimenting a bit with death here. But I bought a lemon cake. We'll all have tea together in a few minutes." The old man looked up from the floor and smiled.
"Be original!" My mother always called to me as I climbed aboard the school bus. "Be special!" In our world, to be ordinary, normal, and average were the true sins. Mundanity was a fate worse than death. A road other than the one less traveled was out of the question.
I read Frost's words again about the time that I'd finished my third novel, Regrets Only. I was thinking of an idea for a new book and sought inspiration, as I have before, in poetry. This time, though, the poem struck me in a way it hadn't before. The two roads diverged. His narrator took one. What would have happened if he'd taken the other? What if the road less traveled represented an alternate course? How much is a life shaped by the choices we each make when we come to that divergence in the path?
These questions haunted me over the next several weeks. I thought of my own life. I'd quit the practice of law to try to write. My decision was far from impulsive, yet I left behind four years of law school, six years of experience, and a partnership track. What would have happened to me if I'd continued to pursue a legal career? After I quit law, I'd enrolled in a memoir-writing course, where I met the woman who introduced me to my literary agent. What if the fiction class I'd intended to take hadn't been full? Would I have another agent or none at all? Would I ever have been published? Just after my first novel had been sold, my son was born and my husband and I separated. I had no particular place to go and no particular place I had to be. I drove south with my baby, my two dogs, and my computer. On a passing recommendation, I visited South Salem and fell in love with a farmhouse built in 1790. It has a thin river running behind the property and a moss-covered statue of St. Francis in the garden. I bought the place even though I didn't know a soul, hadn't known the town existed, and couldn't find the grocery store. But I made a choice that has shaped our lives for the past four years. What would have happened if we'd gone somewhere else? Where might we be?
Being Mrs. Alcott was written around this question of accident-or fate-versus choice-or free will. The novel spans the life of Grace Alcott, a woman for whom much has been beyond her control or not her choice. As she faces her mortality, she must come to terms with what she has done, what she has allowed to happen, what she has left to do, and what she wants to change. Like Frost's narrator, she reflects upon the journey she's taken and looks forward, having learned from the road she's traveled.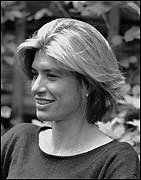 **After graduating cum laude from Harvard Law School, Nancy Geary spent four years as an Assistant Attorney General in the Criminal Bureau of the Massachusetts Attorney General's Office. She initially did appellate work, but later prosecuted public corruption, insurance fraud and financial crimes. Nancy went into private practice briefly at a large Boston law firm before quitting her legal career to try to write. She enrolled in several graduate seminars, participated in workshops on various aspects of writing, wrote lots of short stories and read constantly. Then one day on a vacation in Turks and Caicos, the idea for Misfortune came to her. She couldn't sleep and scribbled notes in a travel guide and on pages of her day planner. Nancy completed the book about a year and a half later and, in the process, came to think of Frances Pratt as a real friend. Misfortune was published in 2001, Redemption in 2003 and Regrets Only in 2004. Nancy Geary's latest novel is Being Mrs. Alcott.
---
More from Writers Write