The Offer by Catherine Coulter Review
Topaz, Oct, 1997.
378 pages. ISBN: 0451407946
Paperback.
Ordering information:
Amazon.com.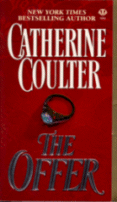 Sabrina Eversleigh runs away from her home to escape her sister and despicable, lecherous brother-in-law. Lost in a blizzard, ill and close to death, Sabrina is saved when a handsome stranger, Phillip Mercerault, stumbles upon Sabrina, finds them shelter in an abandoned hunting lodge and nurses her back to health. When she recovers and returns to society she discovers that she has been "ruined" by having spent a week in seclusion with one of London's most notorious rakes. Realizing her predicament, Phillip offers to marry her. Sabrina, idealistic, naive and strong-willed, refuses, to Phillip's (and everyone else's) complete amazement and instead insists on telling the world the truth. Much to her chagrin, the hypocritical and judgmental high society of her social world simply cannot believe that a man and woman could remain in the same house for a week in a platonic relationship, regardless of the fact that she was deathly ill the entire time. Upon Sabrina's discovery of how society will treat her, she then proposes to Phillip and he accepts. But these two headstrong people have a long way to go to reach a state of mutual understanding -- and mutual passion.
This historical romance set in England is vintage Coulter: full of complex characters, plot twists and turns and, of course, romance. A wonderful story, The Offer is action-packed, enthralling and will keep readers very interested. Highly recommended, especially for those who like a suspenseful tug of war in a relationship.
--Barbara Paschall Averitt
---
More from Writers Write