The Moche Warrior by Lyn Hamilton Review
Berkley Prime Crime, April 1999.
Hardcover, 321 pages.
ISBN: 0425168093.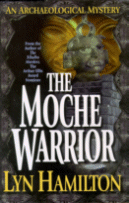 Canadian antiques dealer Lara McClintoch has no idea of the consequences when at an auction she outbids both her ex-husband and a mysterious Peruvian gentleman for an antique snuff box and a box of odds and ends, including what appears to be a replica of some ancient Moche artifacts. When her store is torched, and a strange man is found murdered, the police naturally begin to look askance at Lara. Determined to find out who attacked her assistant and set fire to her beloved store, Lara flees to New York, and eventually to Peru. Under a false identity, Lara ingratiates herself into an archeological expedition who is searching for the tomb of a warrior-priest from the Moche tribe, an advanced ancient culture known for its fantastic artifacts which rival those of the Egyptians in value and artistic merit. Murder and violence seem to follow anyone who possesses a Moche artifact (as does Lara). She will face multiple perils on her quest to clear her name and discover a murderer.
Lyn Hamilton has created a wonderful series starring antiques dealer Lara McClintock (See, The Xibalba Murders and The Maltese Goddess). For anyone who loves history, archeology or antiques the series is a must-read, because of Hamilton's intriguing descriptions of ancient cultures, such as the Moche. But the series works equally well as a straight thriller. Lara is a plucky and intelligent heroine, with a subtle sense of self-deprecating humor and an adventurous spirit. Altogether, a wonderfully satisfying read.
Ordering information: Amazon.com.
---
More from Writers Write
---