The Marshall Plan for Novel Writing by Evan Marshall Review
by Editor
The Marshall Plan for Novel Writing
by Evan Marshall
Writer's Digest Books, October 1998.
Hardcover, 242 pages.
ISBN: 0898798485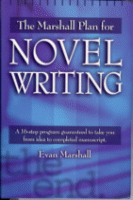 Evan Marshall is a successful literary agent and mystery novelist (author of Missing Marlene). He also also teaches a popular writing seminar through the Heartland Writers Guide. In his book and writing program, The Marshall Plan for Novel Writing, he helps readers take a story idea to completed novel. The program is divided into five major parts, which cover planning and developing your story idea, plotting, writing like a pro, self-editing and a final section on marketing your novel.
The book is further divided into sixteen steps, each of which contains tips and advice you can't find anywhere else. Some highlights include: a complete list of different genres and subgenres, character fact lists, section sheets (a device used for plotting), FAD (putting feelings, action and dialogue in the correct order) and the Novelist's Manual for Self-Editing, a collection of checklists for writers to use when editing their novel. Each step also provides thorough advice on what to do and what not to do, examples of what works and inspiration to keep you going. An appendix in the book includes a sample synopsis for a novel that was sold and published.
Evan Marshall is an expert on the publishing industry and what it takes to complete a commercially viable manuscript. Marshall's' suggestions and thoughts on the novel writing process are conveyed in a logical and easy-to-follow manner in the Marshall Plan. The program can be completed from start to finish, or the reference can be used by budding novelists looking to brush up on a particular area such as characters, or overcome a specific problem such as editing or writer's block. The Marshall Plan is truly a must-have resource for anyone embarking on the journey of writing a novel, and would make a superb gift for any aspiring novelist. Highly Recommended.
Ordering information:
Amazon.com.
---
More from Writers Write
---