The Major Role of a Minor Character
by Jan Brogan
I'm pretty single-minded. I decided in first grade that I would be a writer. Except for some early consideration of careers as princess, hairdresser, and movie star, I stuck with the original plan. My parents suggested that journalism was a practical career for a writer, so I took a journalism class that was offered at my high school in Clifton, New Jersey. My father, who had been a local politician, knew an infamous cop charged with murder. After his acquittal, I was granted an interview and wrote a story about the unsolved murder at 15 years old for my high school paper. Thus both my journalism and murder mystery careers were born.
I went on to major in journalism at Boston University, and was lucky to get a job in daily newspaper reporting. After several years at The Worcester Telegram in Massachusetts, I moved to The Providence Journal in Rhode Island, where I learned that the smallest state in the country was a perfect backdrop for murder.
Along with great scenery and fabulous food, Rhode Island was filled with colorful characters you just couldn't make up. The head of the mafia in Providence once called talk radio to commend the attorney general for doing a good job on crime. And I actually think he meant it.
After my two children were born, I left full time reporting to focus on fiction writing, but I never gave up journalism, which kept me sane through the heart-breaking rejections of my early fiction career. Today, I continue to work part time as a correspondent for The Boston Globe and as a freelance magazine writer. When I get stuck in a difficult patch of a novel, I find relief in turning to an essay or newspaper piece.
I read both fiction and non-fiction in nearly equal amounts. I define my favorite novels of all time as books I've read more than twice. They are Lonesome Dove by Larry McMurtry, Killer Angels by Michael Shaara, Pride and Prejudice by Jane Austin, and Rebecca by Daphne Du Maurier.
My favorite mystery author is Scott Turow, and I read all of his books as soon as they come out. I also like Dennis Lehane, Linda Barnes, Bill Tapply, and Deborah Crombie, as well as my friends H.G. Ephron and Naomi Rand. A fondness for Janet Evanovich speaks to my Jersey roots.
In my high school and college years, I went through the classics, but also had a fling with family sagas. I read a lot of Barbara Taylor Bradford and Jan De Hartog. My fascination for the dark side was sparked by Taylor Caldwell's Wicked Angel and several readings of Charlotte Bronte's Wuthering Heights.
Today, some of my favorite non-fiction reading includes: A Scream Across the Water by Margaret Press, The Prince of Providence by Mike Stanton, Black Mass, The Irish, The FBI and A Devil's Deal by Dick Lehr and Gerard O'Neill and Underboss by Peter Maas. Basically, I like anything well written about corruption or the mob. Maybe that speaks to my Jersey roots, too.
I do a lot of research for my books on The Providence Journal's website, and at The Providence Phoenix website, but most often just rely on Google. On books, I like Confessions of An Idiosyncratic Mind (sarahweinman.com) and the Cluelass.com websites and if I need a good laugh, I go to Dave Barry's blog.
Years ago, when I used to commute home from the newsroom of the Providence Journal to my home in Massachusetts, I regularly listened to a talk radio show hosted by Buddy Cianci, who had just lost his job as mayor of Providence because he had been convicted of a felony.
The same little old ladies would call the show every day and go on and on about how much they loved him. The fact that Buddy had assaulted a man he thought was having an affair with his ex-wife, with an ashtray, lit cigarette and fireplace log, didn't faze any of his listeners. It didn't mitigate his charm.
I decided that someday I wanted to write a novel about a character who was addicted to talk radio, who idolized the host, and called every night. I didn't know that my character would be a newspaper reporter or that the novel would be a murder mystery. And I certainly didn't know that the inspiration for the novel, Buddy Cianci would get re-elected to the job of mayor, become a national celebrity, and get convicted all over again, this time on charges of conspiracy, racketeering and extortion. As stories do, my novel evolved over time. The protagonist, Hallie Ahern, remained addicted to talk radio, but the show's host became an anti-gambling zealot and an ardent cyclist. Not the Buddy Cianci type. In fact, he hated the mayor. The mayor's charm blinded the voters. The charm was an opponent. But I felt I could hardly write a novel set in the newly reborn Providence without incorporating the mayor who gets credit for its renaissance. And how could I completely eliminate an-ever quotable politician, who as he was headed off to federal prison, joked that it was like going to "a very inexpensive spa."
I did my best to harness a Buddy Cianci-like charm for my fictionalized mayor, Billy Lopresti, even though he is but a minor character in this particular Rhode Island mystery. I hope I managed to capture just a little bit of the charisma, as well as the adoration and anger his name still evokes in the nation's smallest state. Is my Mayor Billy Lopresti a good guy or a bad guy? I try to let the reader decide. Just like the real mayor, the evidence cuts both ways.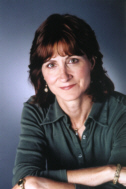 **Jan Brogan has been a journalist for twenty years. She is a former staff writer at The Providence Journal-Bulletin in Rhode Island and The Worcester Telegram and Gazette in Massachusetts and currently works as a correspondent for The Boston Globe. Her freelance work has appeared in Boston Magazine, The Improper Bostonian, Ladies Home Journal and Forbes Magazine. A winner of the Gerald Loeb award for distinguished financial writing, she drew on her experience as an investigative reporter to weave together the backdrop of her first novel, Final Copy. That novel, which won The Drood Review of Mystery's Editors' Choice award, was named one of the best eight mysteries published in 2001. Her new book, A Confidential Source, was published by Mysterious Press in April 2005. Brogan is a member of Sisters In Crime/New England, Mystery Writers of America, and Pen/New England. She has taught novel writing at the Cape Cod Writer's Center, the Boston Learning Society in Needham, The Brown University Learning Community and The Learning Connection in Providence. A native of Clifton, New Jersey, she lives in Westwood, Massachusetts with her husband, her two children, a bird and a dog.
---
More from Writers Write