The Last Cato by Matilde Asensi Review
The Last Cato
by Matilde Asensi
Rayo, May, 2006
Hardcover: 464 pages
ISBN: 0060828579
Ordering information:
Amazon.com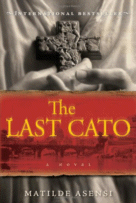 Brilliant paleographer Dr. Ottavia Salina is the head of the Vatican's Restoration and Paleography Laboratory, which is located in the Vatican's Classified Archives. She is also a nun, otherwise she couldn't work in the secret parts of the Vatican. Dr. Salina is called in to consult by Vatican officials on a puzzling case: all over Europe, sacred Catholic relics are being stolen from secure locations. In addition, an Ethiopian man was found dead, his body covered in strange tattoos and "scarifications." The man had in his possession three pieces of wood which belonged to the True Cross on which Christ was crucified. Dr. Salinas is ordered to investigate the meaning of the scarifications and is assigned two other team members: Kaspar Glauser-Roist, a laconic member of the Swiss Guard, and Farag Boswell, an attractive and brilliant Egyptian archeologist. The three set out on a global chase to find the mysterious group called the Staurofilakes which is headed up by a leader known as the Cato. Using clues contained in Dante's
Divine Comedy
as their guide, the three find themselves on a grueling and exciting quest to find and expose the Staurofilakes and to recover the pieces of the True Cross.
A bestselling author in Europe, Matilde Asensi is a new find for American readers.
The Last Cato
is an intellectual thriller which criss-crosses the globe. Dr. Salina is a fascinating character: she's a nun with a strong faith, yet her intellect pushes her to question everything around her, including church dogma and the cherished truths that she has believed about her large and powerful family. A thinking person's thriller,
The Last Cato
has excitement, intrigue, danger -- and even some romance, making it the perfect read for those who are impatient for Dan Brown's next book to make its appearance.
---
More from Writers Write