The Haunt by J.N. Williamson Review
Leisure Books, June, 1999.
Paperback, 363 pages.
ISBN: 0843945435.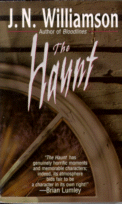 The Kidd family lives a life of ease. Everything is provided for the two surviving members of the family, brothers Ray and Jack: a house, enough money to live, everything they want -- except freedom. A mysterious presence haunts the Kidd family and has for several generations. So long as the family members don't do anything to enrage the presence, they exist in perfect health. But Ray and Jack crave freedom to come and go as they wish and to date whom they please. When Jack falls in love with Rachel, a divorced mom, he realizes he has to do something about the force that controls the Kidd family -- he cannot allow anything to happen to Rachel or her child should they displease the presence which so loves to discipline those that disobey.
The Haunt
is an edge of your seat horror story with an interesting premise. The presence in the house is genuinely terrifying, as well as being pretty mysterious for most of the book. Is it a ghost? A demon? It's certainly vindictive, at any rate. With strong characters and a well-developed storyline, this is one story that will have you reading way into the night -- with the lights on.
Ordering information:
Amazon.com.
---
More from Writers Write