The Gun Seller by Hugh Laurie Review
SoHo Press, May, 1997.
340 pages. ISBN: 1569470871
Hardcover.
Ordering information:
Amazon.com.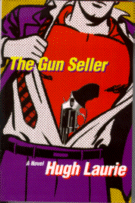 Former Scots Guard Thomas Lang is down on his luck, unemployed and not sure what to do next with his life when he is offered a contract to murder a wealthy businessman. He refuses and decides instead to warn his intended target. When he shows up at the target's house he's attacked by a tough and is forced to defend himself. Before he can leave, however, a gorgeous girl appears on the scene (apparently the occupant of the house) and demands explanations that Lang doesn't feel like providing - so he lies. A lot. About everything. And from then on his life is turned upside down as he is sucked into a maelstrom of international intrigue, terrorism, spying, violence, murder, and of course, romance. The diffident and lackadaisical Lang seems like an easy target for the machinations of the various unsavory characters who keep turning up on his doorstep: CIA and British Secret Service spies, international terrorists and assorted international villains, to name a few. But there's more to Lang than meets the eye. Ostensibly a pawn in an international high stakes weapons game, he manages neatly to turn the tables on his adversaries and make himself a player in a deadly game of international intrigue, terrorism and arms dealing. Will Lang come out alive? Has he really gone over to the dark side? Will he make it home in time for tea?
Brilliant comedian and actor Hugh Laurie has penned a comic tour de force in his debut novel. A cross between Douglas Adams' Arthur Dent and Ian Fleming's James Bond, Thomas Lang is sidesplittingly funny to watch as he navigates his way through an international maze of big money, ruthless arms dealers and known terrorists all while providing a hilarious running commentary on the frailties and foibles of the odd company he is forced to keep in order to save the life of the woman he's not sure he really loves. Delightfully irreverent and wickedly funny, this thriller/comic/spy novel will delight lovers of farce and of the spy genre alike.
---
---
More from Writers Write
---