The Edith Wharton Murders by Lev Rapheal Review
St. Martin's Press, Sep., 1997.
Hardcover, 237 pages.
ISBN: 0312155190.
Ordering information:
Amazon.com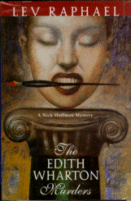 Nick Hoffman, beleaguered composition teacher at the fictional State University of Michigan is wondering if his dreams of tenure will ever come true. If the homophobia sweeping the campus doesn't do him in, his new assignment to coordinate an Edith Wharton conference just might. There are two main Wharton groups with diametrically different views of how the legendary author's work should be interpreted. Naturally, one society cannot be invited without inviting the other one. And, unfortunately, the members of the two groups can hardly stand to be in the same room with each another. With visions of his tenure being sucked into the black hole of a disastrous conference, Nick reluctantly agrees to chair the dreaded event.
Things start off well -- attendance is high, the food is good -- until one of the attendees is violently murdered. While the opposing Wharton scholars trade literary barbs and try to conceal their envy at the success of colleague Chloe De Vore, Nick finds himself a murder suspect for the second time . It's up to Nick to find the murderer, prevent another one from happening and save the conference -- not to mention his career.
Lev Raphael
fans breathed a sigh of relief when Nick Hoffman returned in this second entry in this delightful and intelligent mystery series set in the hallowed halls of academia. Even better than the first Hoffman outing (Let's Get Criminal),
The Edith Wharton Murders
will have you laughing out loud, especially at the scene where Nick is forced to do his Elmer Gantry impersonation to calm the fury of the outraged scholars. Nick's faithful narration of the machinations of the university professors and the warring Wharton scholars is truly hilarious. Another witty, wild and wickedly funny romp from master wordsmith Raphael.
--Claire E. White
---
More from Writers Write
---