The Artful Heir by Martha Kirkland
Signet Regency, April, 1998.
Paperback, 224 pages.
ISBN: 0451195620.
Ordering information:
Amazon.com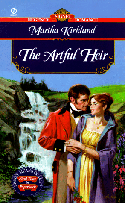 Sarah Sterling is the daughter of a famous London art restorer. When her father becomes ill, Sarah travels to Donmore Hall in his place to fulfill a contract to inventory and restore the large art collection housed at the large estate recently inherited by the new heir, Mr. Matthew Donaldson. Working hard to overcome Matthew's initial reluctance trust a woman with the precious art collection, Sarah nevertheless shows herself worthy of the job. As she begins work, however she discovers some disturbing activities at Donmore Hall. Some of the painting are fakes...and some of the real art is disappearing! Then to complicate matters, a distant relative arrives with a young woman she is determined to marry off to Matthew. Sarah quickly finds herself involved in the mystery of the art thefts as well as a romantic entanglement with her employer.
Martha Kirkland creates a lively and likeable heroine with Sarah Stirling and a compelling and unusual hero with Matthew Donaldson. A soldier who inherited a vast estate when the previous owner disinherited the rightful heir in favor of Matthew, a distant relative, the new heir is somewhat uncomfortable with the ways of polite society. The characters are well-drawn and the plot is intriguing. A fun and lighthearted read for Regency romance fans.
---
More from Writers Write
---