The Sword and the Miracle by Melvyn Bragg Review
Random House, Nov., 1997.
Hardcover, 536 pages.
ISBN: 0375500030.
Ordering information:
Amazon.com.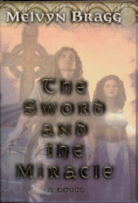 This engaging epic saga begins in Ireland with Donal, a devout monk, receiving a blessing from the Virgin Mary. Donal is given a piece of the Holy Cross to bequeath to a young girl named Bega. He is to look after the girl and give her the gift when the time is right. Bega grows to be a well-schooled and feisty young maiden, mostly because of her tutor, Padric, a Rheged Prince, with whom she is falling in love. However, her fierce warrior father King Cathal promises her hand to Niall O'Neill, a brutal barbarian Prince whom she despises. Bega is afraid to discourage her father and O'Neill soon arrives expecting a marriage ceremony. However, the marriage ceremony falls apart due to a series of horrors. O'Neill, who has arrived to wed Bega, rapes a servant woman after the first evening of festivities which include plenty of food and wine. To Bega's dismay, O'Neill is not punished by his father, but at the wedding ceremony O'Neill is stabbed to death by the servant woman and the servant woman is beheaded. King Cathal is considered responsible and must leave to apologize to the O'Neill family. Donal, feeling that the time is right, gives Bega the gift of the true cross. Bega then sets sail for Britain with Padric, who yearns to free his father's kingdom from the Northumbrians.
This is just the beginning of this saga, as Bega pursuits a life of dedication to God as a nun and Padric returns to his father to convince him to turn against the ruling Northumbrians and quit paying the tribute. Padric is also highly suspicious of the Northumbrian King's son, Eldrich, who he fears has plans to overthrow his father's kingdom and rule all lands. Padric also continues to pursue Bega, although he is continually thwarted in his dreams of love by her dedication to faith. Even so, their love for each other never falters as Padric begins his journey to form an army to return his father's Kingdom to Rheged and Bega pursues her life of independence, virtue and dedication to God.
Using historical names and figures, Melvyn Bragg has authored a mesmerizing tale that intertwines the lives of two loving characters, Bega and Padric, with the complex ethical and religious passion and zeal of the age in which they live. Bragg has penned an intelligent epic fantasy tale with magic, love, religion and war that also gives insight into the values and lives of life in early Britain and Ireland.
---
More from Writers Write