Sole Survivor by Dean Koontz Review
Ballantine, Dec., 1997.
402 pp. ISBN: 0345384377
Mass Market Paperback.
Ordering information:
Amazon.com.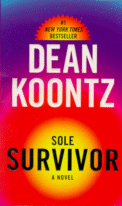 Joe Carpenter, a former reporter for the
L.A. Post
has moved himself into isolation to die. In the year since the death of his wife and daughters in a tragic plane crash in which there were no survivors, he has left his job, become an alcoholic and become lost in a state of unrecoverable grief. This quickly changes when he realizes his every move is being watched and he is visited by a woman claiming to have survived the crash that took his family's life. The opportunity to discover the cause of his family's death urges Carpenter back into life and into his old investigative reporter identity. He soon starts visiting the relatives of other victims of Flight 353, only to find that bizarre unexplained deaths by suicide have been occuring. When horrifying suicides began to happen right in front of his eyes, Carpenter realizes he is next in line to kill himself. Carpenter races to elude his pursuers, talk to witnesses and uncover the plight of Flight 353 and his beloved family before it is too late. In a race against time, Carpenter is led into unimaginable situations and closer to believing in a God he never believed in.
Sole Survivor
is an engaging novel, full of suspense and moments of horror. Dean Koontz is able to entertain the reader and maintain the suspense in this complex story up until the fulfilling conclusion. The story includes elements of paranormal activity, psychology, genetic engineering and a "Big Brother" type conspiracy theory. An exciting tale that takes you deeper with every page.
---
More from Writers Write