Simple Pleasures by Alfred Portale and Andrew Friedman Review
by Editor
William Morrow, November, 2004
Hardcover, 262 pages
ISBN: 0060535024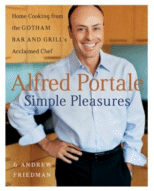 So what do famous chefs cook in their own homes? Alfred Portale, executive chef and co-owner of New York's Gotham Bar and Grill shares 125 of his favorite dishes, or "simple pleasures" as he calls them, in this marvelous and useful cookbook. The book is divided into chapter headings, such as Salads; Starters; Soup, Sandwiches and Pizzas; Pasta and Risotto; Main Courses; Accompaniments and Side Dishes and Desserts. Next to each recipe are Variations and Flavor Building tips, which give the home cook multiple additional options for each dish. Color photographs are provided of the finished dishes, and of some of the prep work. The dishes themselves are fusion in nature; Chef Portale is inspired by Asian, Middle Eastern, Italian and French cooking (except for his Risotto and Pasta dishes -- he sticks strictly to Italian spices for those, saying that he is a purist because of his Italian ancestry).
There are quite a few meat dishes, such as Braised Pork With Fennel and Red Bliss Potatoes, Lime and Butter-Braised Fluke, Roast Cod With Escargot Butter, Roast Duck Chinois and Filet Mignon With Madeira Sauce. But vegetarians are not forgotten, and will enjoy Grilled Vegetable, Arugula, and Fresh Mozzarella Sandwich, Lentil Soup With Spinach and Indian Spices, Roasted Chestnut Soup, Whole Wheat Spaghetti, Sautéed Radicchio, Garlic and Parmigiano-Reggiano, and Rigatoni With Cracked Black Pepper, Basil and Fresh Ricotta (that one is very easy to make and especially delicious.)
Chef Portale is as inventive as he is talented. And one thing's for sure; anyone lucky enough to receive an invitation to dinner from him should jump at the chance.
Ordering information: Amazon.com