SilverFin by Charlie Higson Review
Miramax, April, 2005
Hardcover, 352 pages
ISBN: 078683661X
Ages 10 and up
Ordering information:
Amazon.com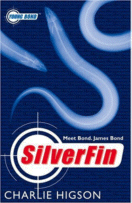 A young boy in Scotland ignores the no trespassing signs at Loch SilverFin and has a horrifying encounter with mutated eels in the shocking, adrenaline-packed prologue to the new Young Bond series. So what was James Bond like as a little boy? Readers will get the chance to find out in this well-done new series from Charlie Higson. Coordinated with the original Ian Fleming novels (not the horrible modern add-ons),
SilverFin
stays true to Fleming's vision. Recently orphaned, the young James is sent to boarding school at Eaton. It's the 1930's and Eaton is cold, drafty and maze-like, with arcane rituals and eccentric professors. As with schools everywhere, it also boasts some very nasty bullies that like nothing better than to pick on the new boy. George Hellebore has a gang of friends who love to pick on Bond, but Bond holds his own. On summer break, Bond heads to the north of Scotland to stay with an aunt and his ex-spy Uncle Max. Bond and a friend he met on the train named Red Kelly head over to the forbidden Loch SilverFin, which is owned by George Hellebore's father. Red came to Scotland to find his missing cousin (the boy from the Prologue) and has heard the rumors about the strange goings-on at the castle. Hellebore is hiding quite a bit at the castle, actually. He's been experimenting with genetic mutations and is quite unencumbered by any ethical restraints. And when he finds young Bond snooping around, it looks like Bond may end up as the subject of one of the more terrifying experiments if he doesn't escape.
Higson does an excellent job with the first Young Bond book. The prologue is worthy of the adult Bond novels, and Higson does an interesting character study of a boy in transition. From his first days as an outsider at school, to his growing athletic prowess, his learning to stand up to bullies, and his horrifying first encounter with true evil, the young James Bond slowly turns into a fully-realized character. The tragic death of his parents, his fondness for his aunt and his uncle, and his growing ability to forge friendships easily are all realistically portrayed. And by the last third of the book, the adventure is in full rip-roaring James Bond mode. And that bodes very well for the rest of the series.
---
More from Writers Write
---